The first day of 2016 was met with excitement by fellow Final Fantasy XIV gamers with the release of the game's first newsletter of the new year. Yoshi-P, director and producer of the popular Final Fantasy MMORPG, sent an email to current subscribers on January 1st, 2016. He begins the newsletter with a heartfelt "thank you" for the support, as well as recounting the excitement felt for the release of Heavensward, FFXIV's first, and so far only expansion within it's five year history, "something we wanted to do since the early days of 1.0", he states.
Heavensward, also known as patch 3.0, was first announced October 18th, 2014 at the North America Fan Festival, and news of its development was subsequently expanded upon at gaming events all over the world, including E3, Gamescom, and Japan Expo. After a special early access, the expansion was released on June 23rd, 2015. Patch 3.1, a patch that included new quests, items and other content to expand upon Heavensward, was recently released on November 10th, 2015.
Now, with a new year comes new content. In the New Years newsletter, Yoshi-P states that the "development team is still working hard for [patch 3.2's] release in February". He then proceeded to share a few teaser screenshots: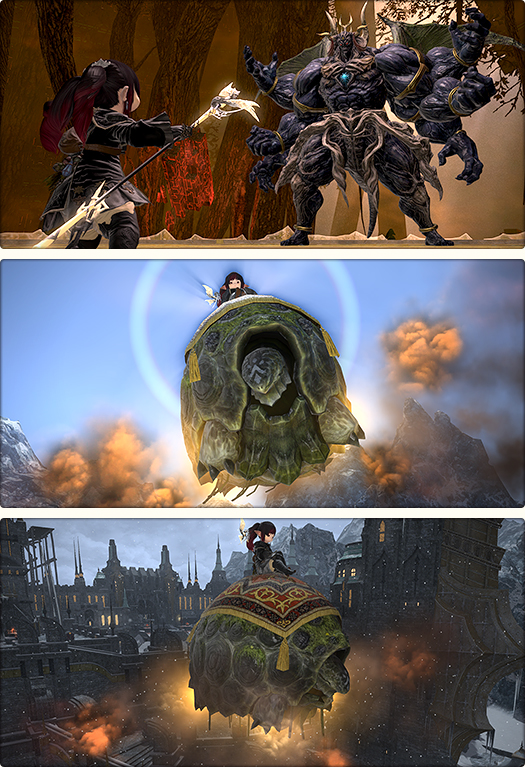 From these screenshots, it can be theorized that the monster in the first picture is a new boss located in a new dungeon, and the second and third pictures are of a new mount, potentially a loot item for the previously mentioned dungeon.
FFXIV's producer/director closes the newsletter with another exciting teaser – a diary entry from one of the (many) plot important game characters, Archon Louisoix Leveilleur, where he quotes a passage "from the Gerun Oracles":
'In the beginning, before myth and legend, 

before Light and Dark, there was but the sea. 

In the beginning, before man and hist'ry, 

Light and Dark were divided, the sea sundered in fourteen. 

To the seas She cast Her children, for fear of the Moon. 

For hate of the Star, to the seas He cast His doom.'
What exactly are the "Gerun Oracles", and what significance does this specific text have for our Heroes of Eorzea? Only time will tell – until then, stay tuned to our website as more information is slowly revealed in the coming weeks.

Final Fantasy XIV: A Realm Reborn, available for Windows/Mac/Playstation 3 and 4, is currently listed on Steam and Playstation Network for purchase for $19.99, and requires a monthly subscription of $14.99. The Heavensward expansion is also listed on Steam and PSN for $39.99.

<!-comments-button-->